Mega Moolah News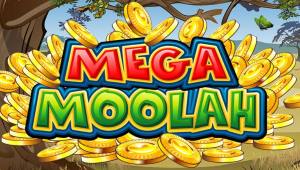 Keep up with all of the latest Mega Moolah Jackpot news in this section, such as like someone has won the $13m Mega Moolah Jackpot!.
The latest Mega Moolah progressive jackpot winner had a multi million dollar win in April 2015.
The famous Microgaming progressive slot dished out its first Mega Jackpot worth a cool $7.5 million in Canadian money. The lucky player was playing the game at Crazy Vegas Casino and is a Canadian citizen.
The winner is a regular at Crazy Vegas, and he scooped the first jackpot in 2015. The previous win was back in November 2014, when a player won $3.3 million. This is one of the largest ever Mega Moolah wins- the record being a $9.5 million win in 2012.
The Mega Moolah jackpot can be played for on the original Mega Moolah slot, plus on 4 additional Microgaming slots that are linked to the progressive jackpot:
Original Mega Moolah
Mega Moolah Isis
Mega Moolah Summertime
Mega Moolah 5 Reel Drive
The Dark Knight Slot
The wheel of fortune game looks a bit different on the Dark Knight slot, but the theory remains the same. Below we take a look at some of the biggest Mega Moolah jackpot wins in history.
Previous Mega Moolah WIns Include:
Apr 2015 : Canadian player won CAD $7.5m.
Nov 2014 : Player I.R. won $3.3m.
Jun 2014 : Player Jorge S. won €2.38m.
Dec 2013 : Player won $1.6m.
Nov 2013 : Player won £1.8m.
Oct 2013 : Player won £1.6m.
Sep 2013 : UK Player Gabriel L won £3.7m.
May 2013 : Kiwi player Jason A. won NZ$1.06m.
May 2013 : German player G.L. won €3.03m.
Feb 2013 : Player won €2.56m.
Dec 2012 : UK player John O. won £5.88m.
Nov 2012 : Player from Norway won NOK 5.4m.
Jul 2012 : UK player won £2.6m.
May 2012 : Player won $1.07m.
Apr 2012 : Player won $1.39m.
Mar 2012 : Player won $1.52m.
Dec 2011 : UK player Susan C. won £1.96m.
Oct 2011 : Player A.D. won €3.84m.
Dec 2010: Player Mr. R. won €2.54m.
Aug 2010 : Player Mrs. P. won $4.17m.
Let's hope that 2015 looks more like 2013 with 7 wins over the year. Good luck on safari!